February 17, 2021
America's Best Kept Secret: Sun Valley and Stanley, Idaho
I have recently come to terms with the fact that exploring the US is what we do now (instead of international travel) and we are mostly okay with it, so I have made it my mission to find all of the hidden gems our wonderful country has to offer. And let me tell you what- Idaho did NOT disappoint. If you follow me on Instagram you have already gotten a glimpse into our scenic, snowy adventure. I'm here to share with you where we went, what we did and why I am now torn between which I love more- Idaho, Montana or Wyoming. It's a serious toss up but one thing is certain: My heart now belongs in the west.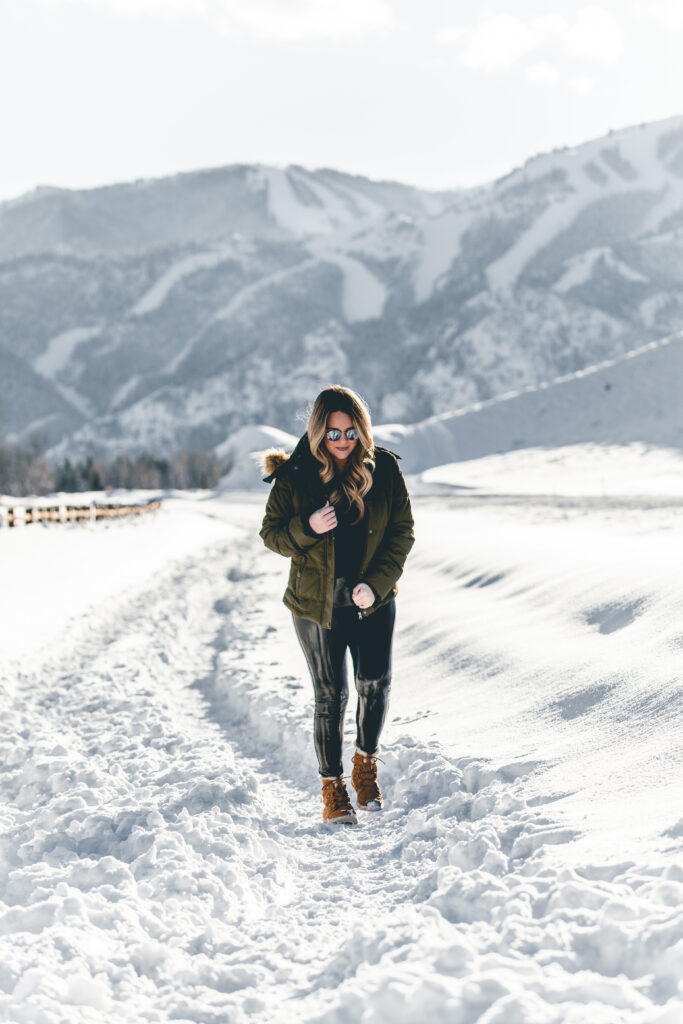 I always thought I was more of a beach girl but Idaho has me questioning everything. I fell in love with the sweeping mountain views, snow covered trees and natural hot springs. This beautiful state definitely does not get enough credit and I was slightly hesitant to share our details because some locals we met said not to tell anyone about it! HA!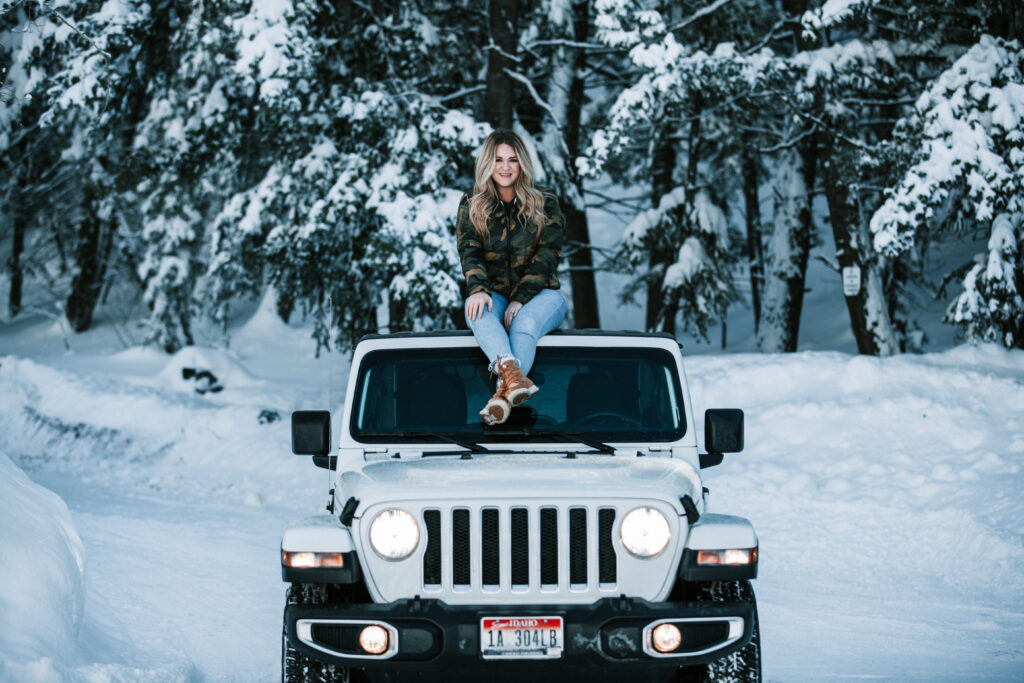 We started our adventure by flying Southwest into Boise, then renting a Jeep and driving 2.5 hours to Sun Valley. I don't ski (yet) but I do like hanging out in fancy ski towns and that's exactly what Sun Valley is. The views, the food and the vibe were all top notch in this area. And all the people were SO nice. The city of Ketchum (right beside Sun Valley) is where we stayed and it kind of has a Jackson Hole, WY vibe but we actually liked Ketchum way better. It is a little more quaint and way less pretentious than Jackson.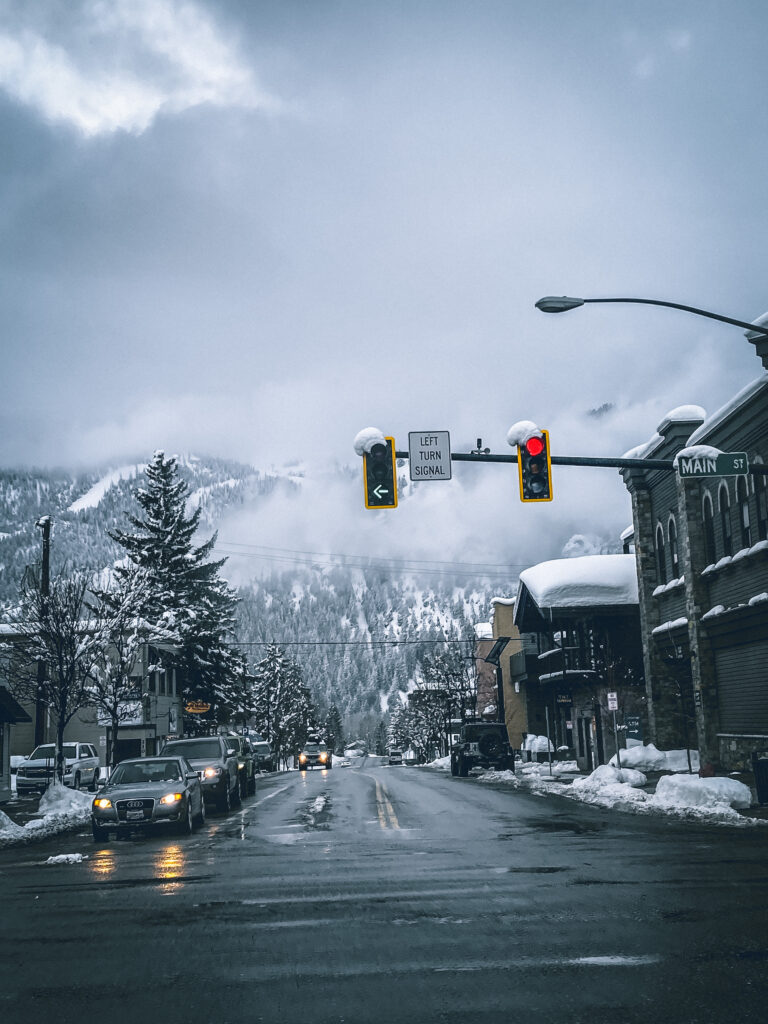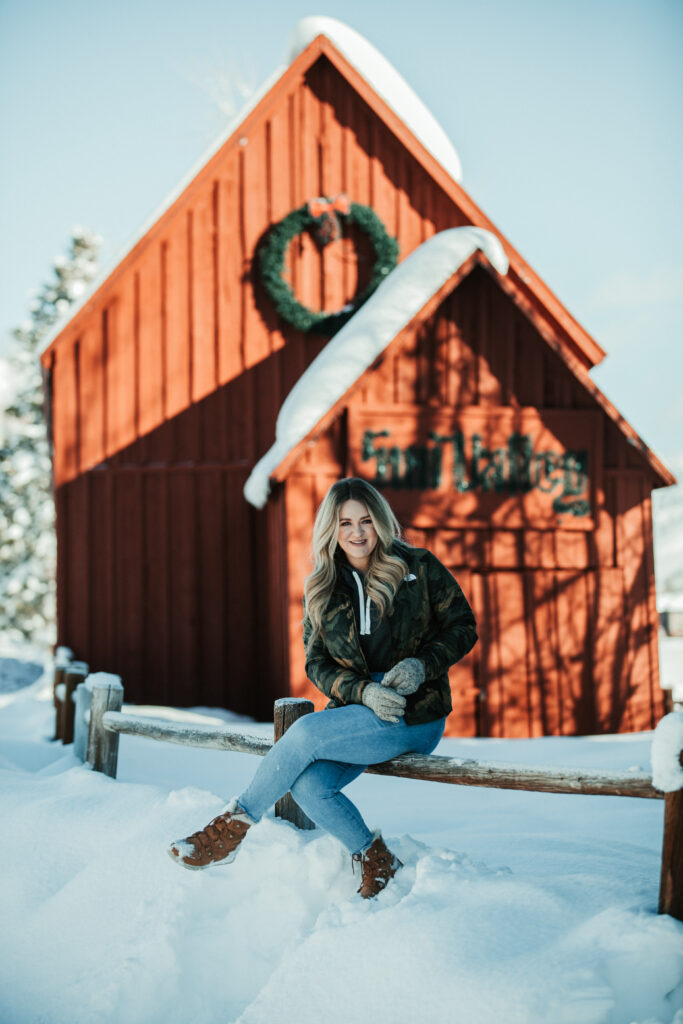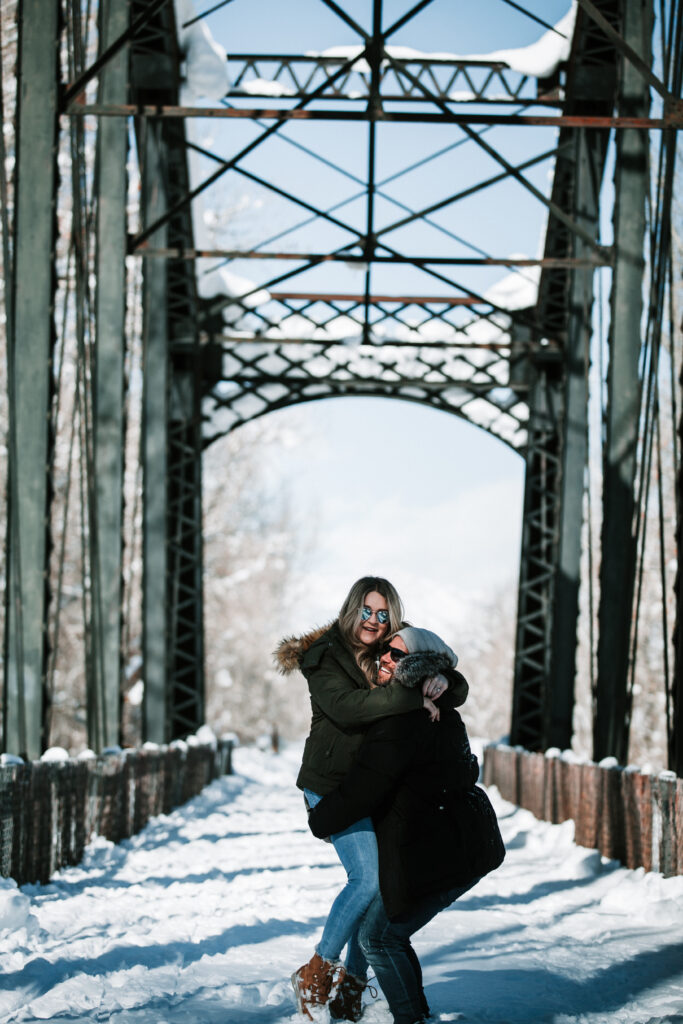 Besides our usual exploring and walking around taking photos, we made sure to take the gondola to the top of the mountain and eat dinner at a restaurant called Roundhouse. It was a pre-fixed 5 course tasting menu. Add a bottle of our favorite red wine (Rombauer Red Zin) and we were basically in heaven. We purposefully made our reservation a little early (5:45pm) so we could get a glimpse of the sunset from the top of the mountain. It was amazing and I highly recommend splurging on this! (It was $99 per person for dinner, wine not included.)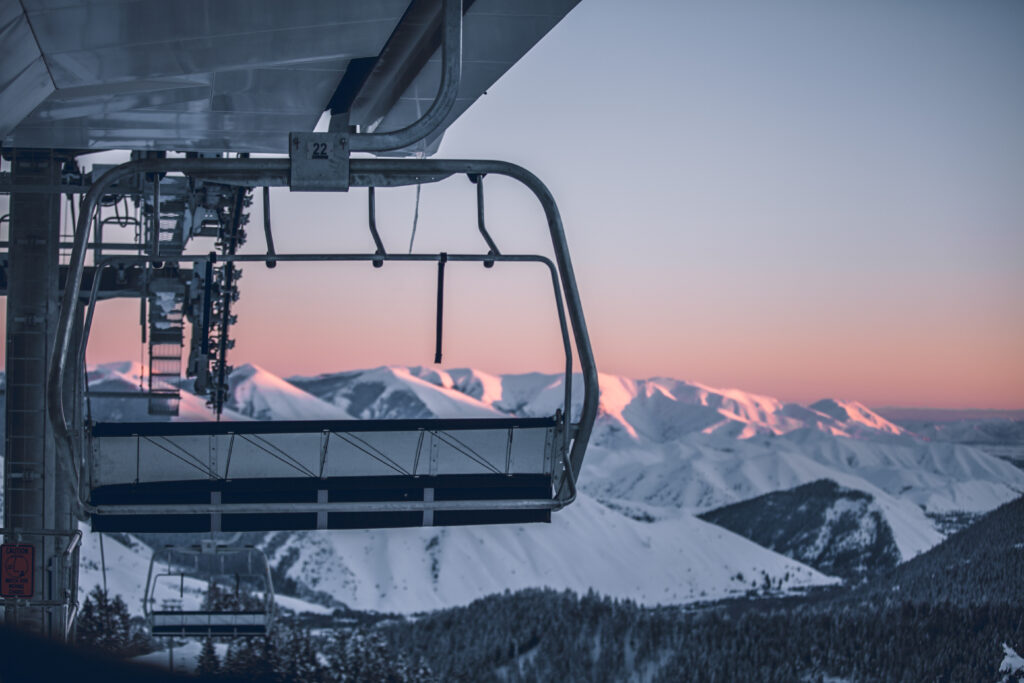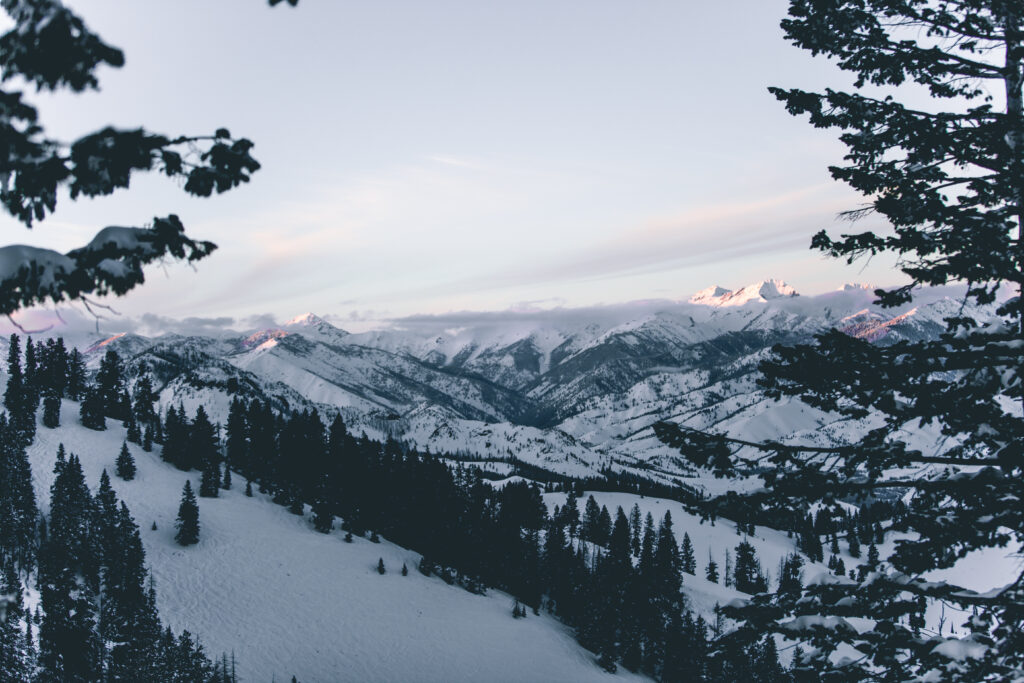 Another amazing place we ate is Pioneer Saloon and it's kind of a staple in Ketchum because it has been around forever. This place was completely packed but we lucked out and snagged some bar seats. They are known for their prime rib so naturally that's what we ordered. We also got an app and a glass of wine at Enoteca, a trendy wine bar in Ketchum. And we ate lunch at Warfield Distillery & Brewery one day as well. All of these were incredible places to dine!
Obviously if you're someone who loves skiing, Sun Valley should be at the top of your bucket list. But even if you don't ski or snowboard (like me) there is a giant ice skating rink and also some awesome hills for sledding. The restaurants are incredible and the mountain views are absolutely breathtaking. I am so so glad we got to experience this town!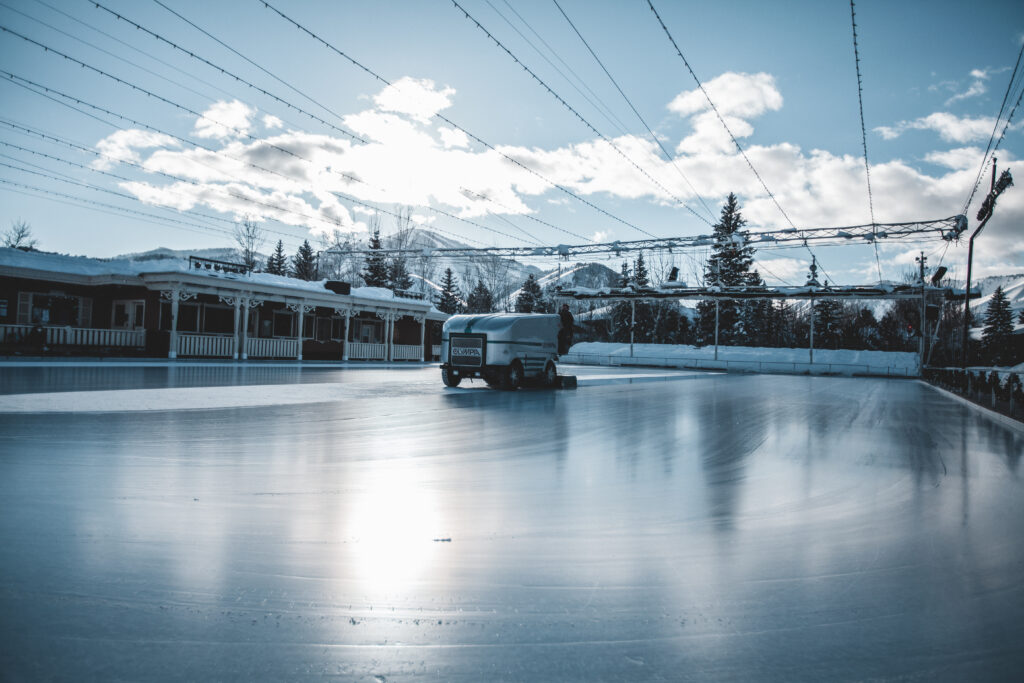 After a couple days of pretending to be fancy skiiers, we hit the road and drove an hour or so north to the remote town of Stanley, Idaho.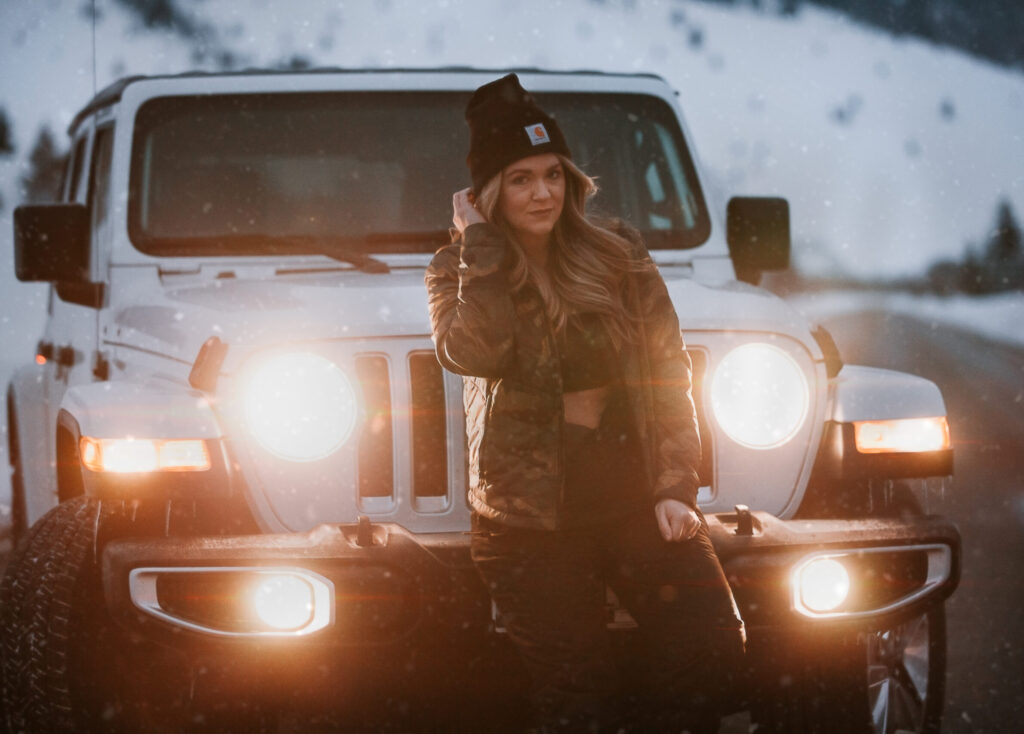 The drive to Stanley was so scenic we kept stopping so Jordan could take photos and also fly the drone. He got some killer footage because we were pretty much the only people on the road. I will never get over the beauty of this drive.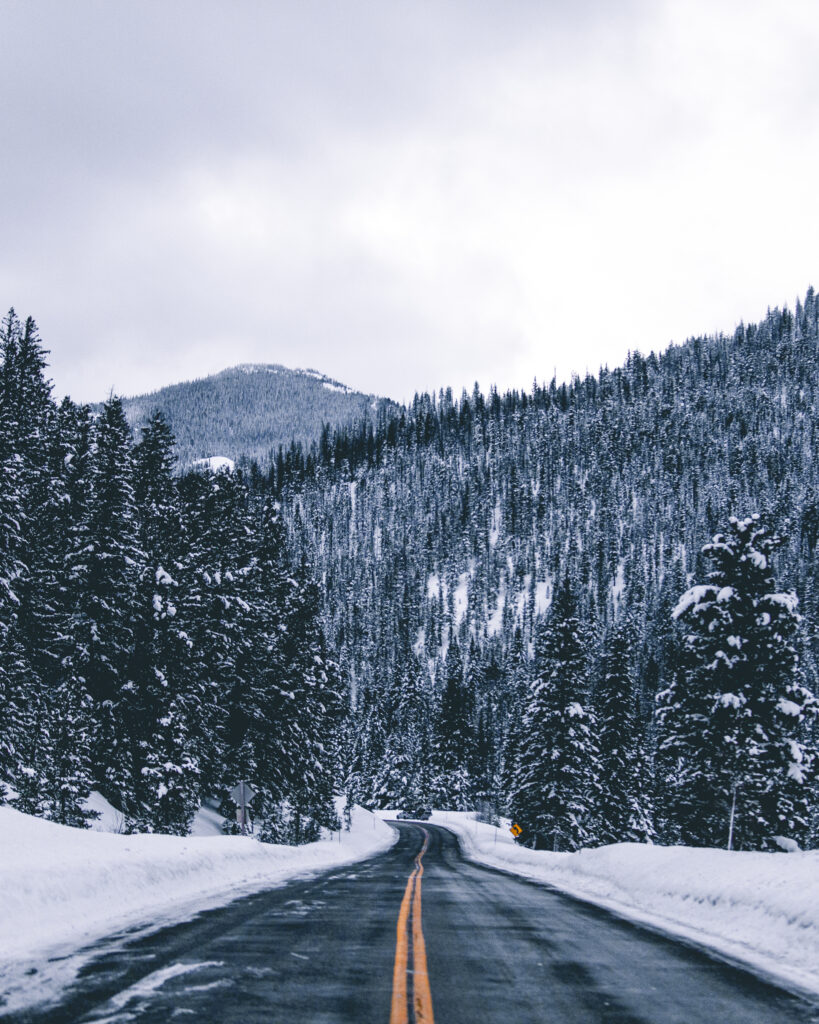 Stanley is an extremely small town with very minimal stores and restaurants but unbelievable views of the Sawtooth Mountains. It is also home to some really awesome natural hot springs. When it's -7 degrees outside but over 100 in the hot springs, getting in and out of the water is a little brutal but it was worth every minute! Our favorite was Boat Box Hot Springs which requires you to pull over on the side of the road and climb a tiny bit down to the river. There you'll find the cutest little pot with natural hot springs water flowing into it. You're surrounded by the most beautiful winter views you can even imagine, with icy river water rushing by and snow covered trees and cliffs behind you. It is such a dream!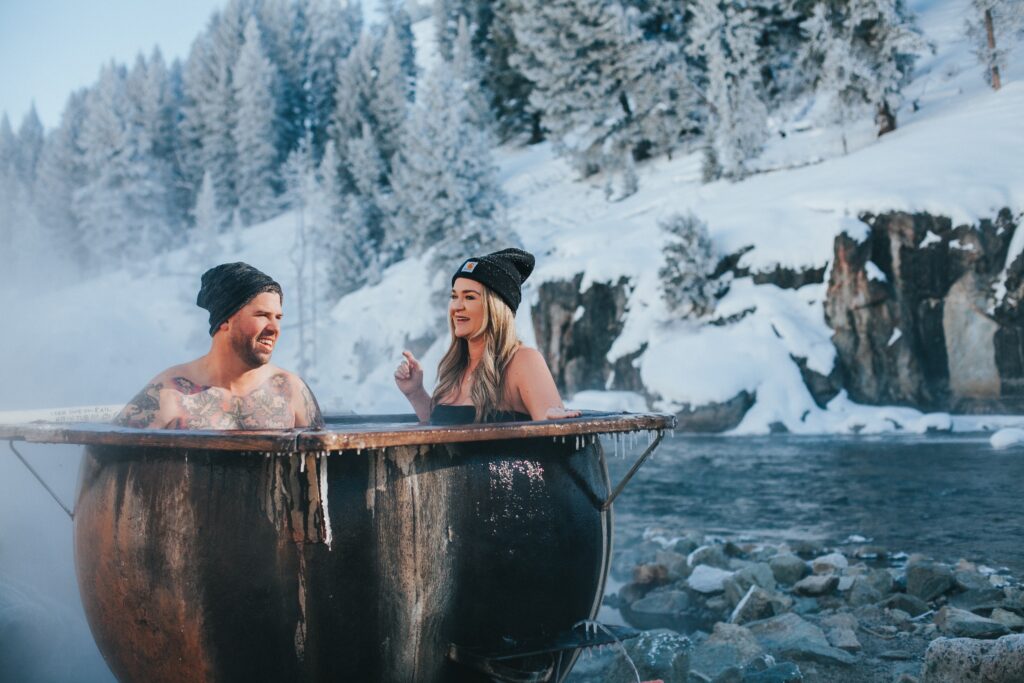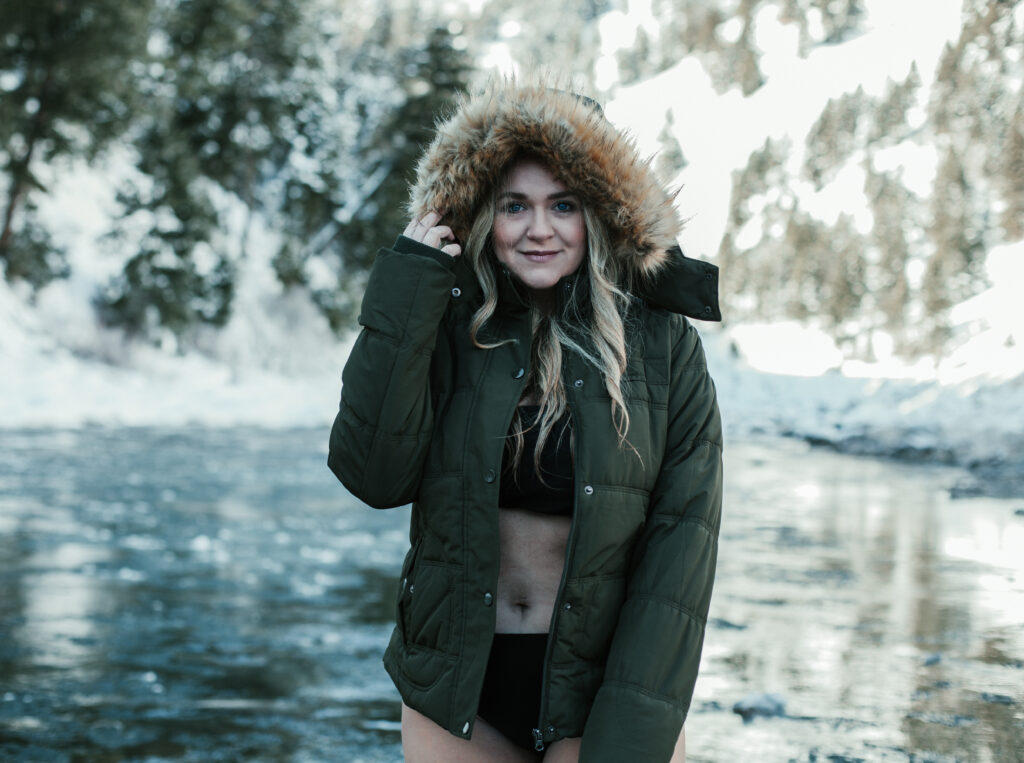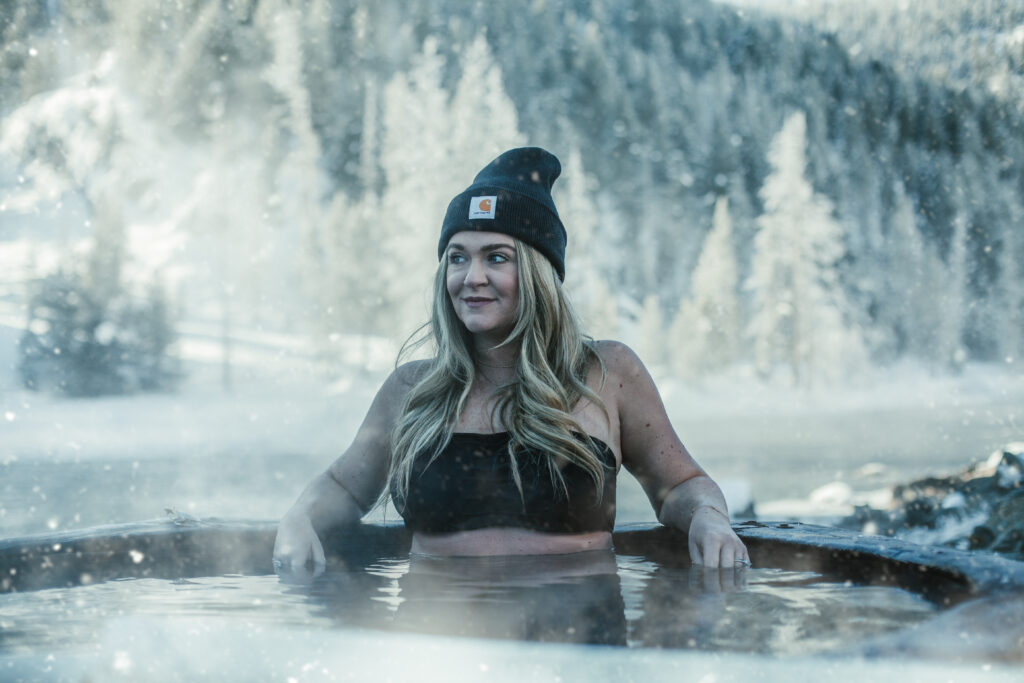 Most things in Stanley are seasonal and only open May-October because this town really thrives in the summer. We stayed at Mountain Village Resort and they have both a restaurant and a saloon that stay open year round. This was the one and only place to eat and drink in Stanley while we were there, but luckily their food was delicious and all the hotel guests hang at the saloon every night since there's nowhere else to go. We made so many new friends, which is one of our favorite things to do on vacation!
The hotel also has a natural hot springs soaking tub on the property and after seeing photos of it on Instagram, I knew I had to experience it! Since we were there during COVID you had to sign up for a one hour time slot and the hot tub was limited to four guests total when it usually holds eight. We got to go twice and it was the most relaxing and incredible experience.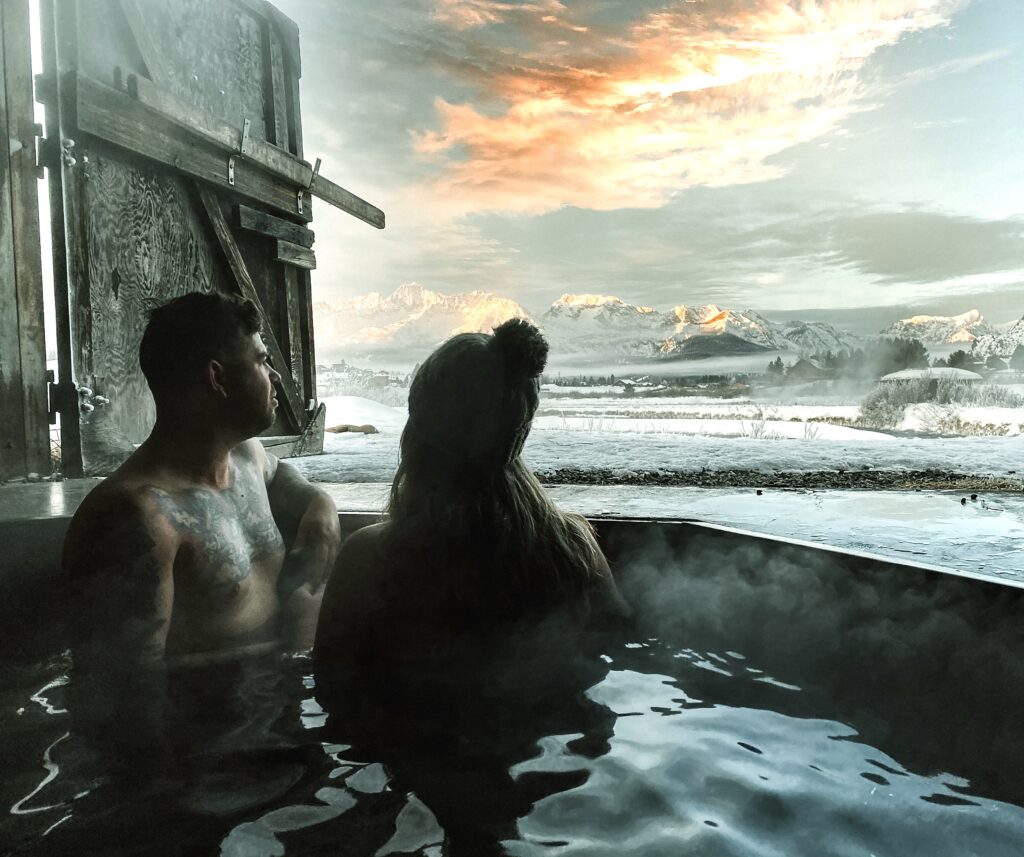 You not only get to relax in over 100 degree water in a little wooden hut, but you also get to stare at a nearby creek and the Sawtooth mountains while you are soaking. This is the best perk to staying at Mountain Village Resort. I think our room was about $89 per night and was definitely not anything luxurious, but the location and the hot tub keep it in high demand!
Besides the hot springs and hanging at the local saloon, the little picturesque town of Stanley provided us the most unbelievable three hour snowmobile ride. We booked this through Sawtooth Traxx and the owners are a husband and wife who couldn't have been nicer. I was way too scared to drive my own so we rented a double and I trusted Jordan with my life as we cruised through fresh powder and climbed the winding trails up the mountain.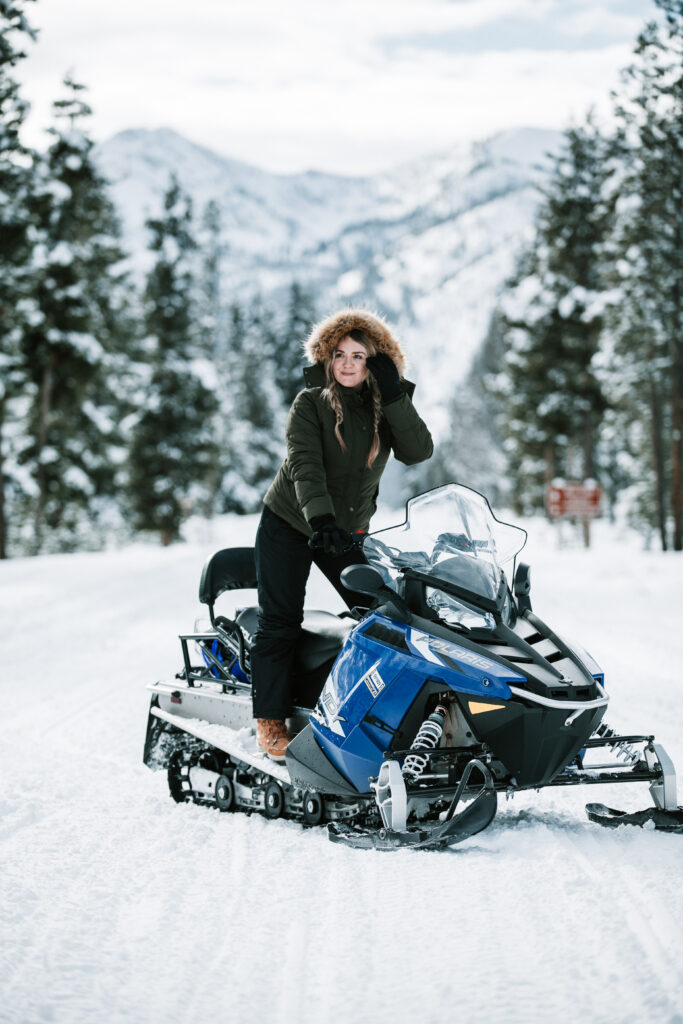 I am not sure there are many places that can provide a snowmobiling trail as scenic as the one we experienced in Stanley so I'm ecstatic that we made this part of our trip! I was pretty scared at first and then my fear just kept growing after Jordan got us stuck in over three feet of snow and then proceeded to go flying off a 4ft drop. You better believe I made him stay on the trail and slow down after that. And yet we still managed to end up lying in the snow laughing so hard we couldn't get back up after tipping over from going around a sharp curve on the trail! It was pretty funny once I realized we weren't going to die.
Once you make it to the top of the mountain trail you get the joy of experiencing a view of the Sawtooth Mountains that can literally only be seen from a snowmobile. We were in absolute awe of Idaho's beauty, especially from this vantage point!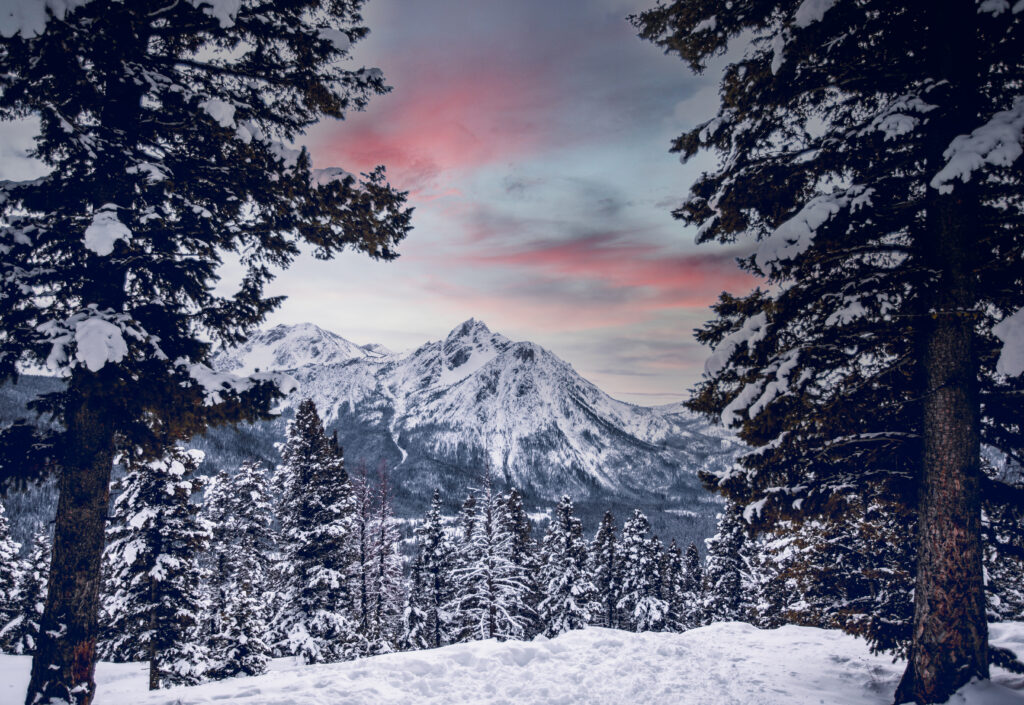 In case you can't tell, Idaho is a state full of incredible scenery and one of a kind adventures. I would absolutely love to go back in the summer when we would be able to experience activities like rafting, kayaking and hiking. I'm not going to lie- I'm so outdoorsy these days and am absolutely loving it! Now go start planning your trip to Idaho because the snow won't last very long past April. The wild west is calling, y'all! Thanks so much for reading and I hope this inspired you to get out there and see a little more of our beautiful country!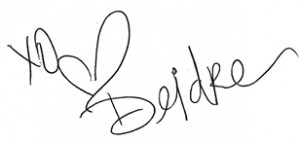 As always- my extremely talented husband Jordan Heid captured all the stunning images in this post! How did I ever travel without him before?!!! I honestly have no idea.